RuiXin Industrial Tools 1" DOC H.S.S Annular Cutters with Weldon Shank, CBN Ground, ANSI Standard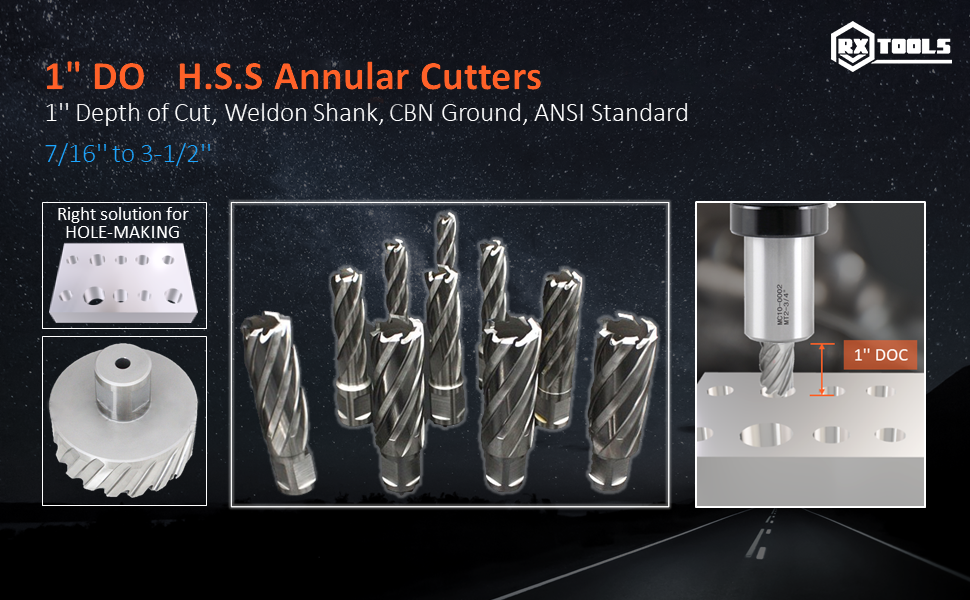 RuiXin 1" DOC H.S.S Annular Cutters with Weldon Shank, CBN Ground, ANSI Standard
Weldon shank

Cutting Diameters range from 7/16" to 3-1/2"

Depth of Cut: 1''

Cut slotting and overlapping holes, and outside edge in steel accurately, quickly and safely.

Compared to usual drill bits, it drills larger diameter holes up to 10 times faster.

Made of tough and high-speed tool steel – more durable than carbide-tipped cutters

With the use of lubricant, it gives machine-finish holes without the need of reaming.

American Standard (ANSI)

It does not come with the pilot pin (center pin/ ejector pin).



Annular Cutters are outstanding for hole-making processes, with faster cutting speed, more long-lasting and better hole finishing.
Since annular cutters take less horsepower, they are especially suitable for machines with lower power so that you can save time
and use more potential cutting tools. Compared to standard twist bits, they drill much larger holes with less force and time.
They are the solution of making holes on metal. Accurate burr-free holes are produced with tight tolerances without pre-drilling
or step drilling.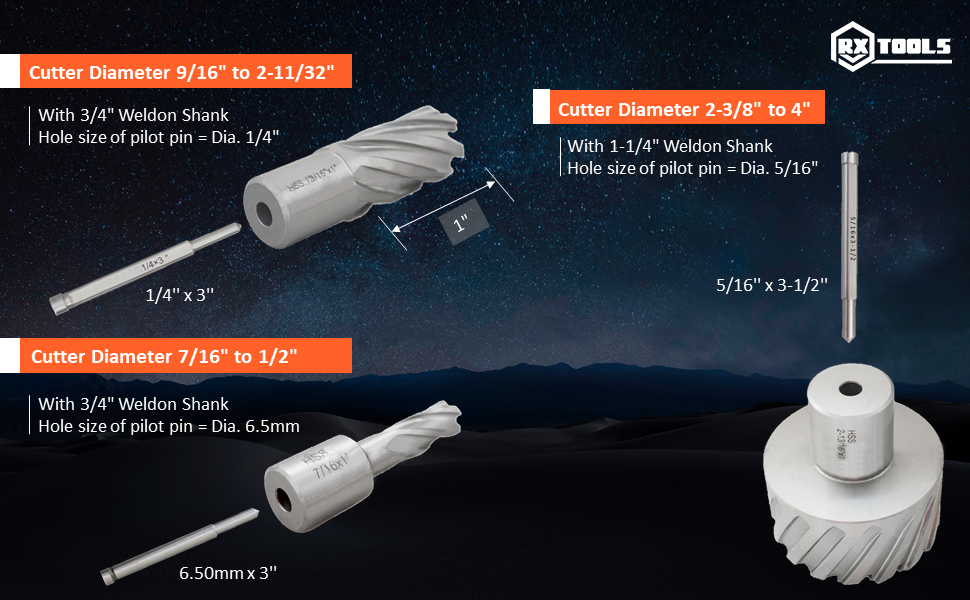 Specification and Feature
Cutter diameter 7/16" to 1/2" are with 3/4" Weldon shank, Hole size of pilot pin = Dia. 6.50mm

Cutter diameter 9/16" to 2-11/32" are with 3/4" Weldon shank, Hole size of pilot pin = Dia. 1/4"

Cutter diameter 2-3/8" to 4" are with 1-1/4" Weldon shank, Hole size of pilot pin = Dia. 5/16"



Features
An annular cutter is a type of drilling tool, which is also called a Rotabroach, core cutter, broach cutter, magnetic drill, mag drill,
core drill, trepanning drill, hole saw and cup-type cutter.
They are outstanding for the hole-making process. These cutters only cut the outside edges of holes and they take less horsepower
so they help save time for machines with lower power.
Good for harder steel.

Drill much larger holes and require less force and time than standard twist bits.

Take less horsepower, suitable for lower power machines.

Significantly faster than interpolating with an end mill.

Much more long-lasting than twist drills or hole saws.

Less expensive than indexable drills, twist drills, and end mills.

Eject a 'slug', the cylindrical steel from the cutter's center, after the hole is cut. Chips are produced from the outside cutting

edges.





Cutting teeth

Every 2 cutting teeth = 1 group

The height difference between the tooth shapes optimizes the geometry of cutting edges.

Grouped and layered cutting and optimized centring improve the removal of chips and give a fast feed rate.

The cutting geometry improves the efficiency and drill life of the annular cutters.

It increases cutting performance and reduces cutting force.

The cutting angles are effective for general use in various sorts of steel.

The U-shaped recesses improve the chip removal performance.

The special geometry of the recesses reduces the thermal load on the cutter since most of the heat produced during cutting is

removed with the chips.

The spiral-shaped guide chamfers reduce the friction between the core drill and the workpiece.